BLUEBERRY THYME COOLER
I just discovered my new, porch-sipping drink. I didn't know bourbon could dress for Autumn so well.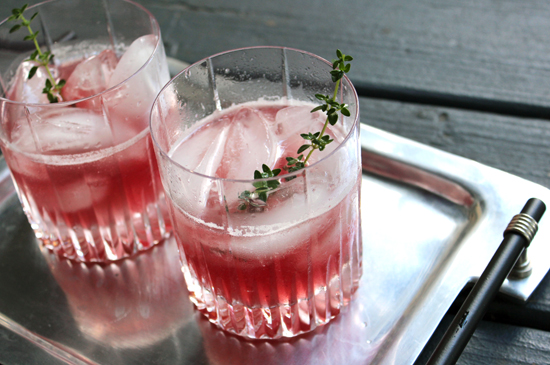 Last Christmas, I gave my clients this homemade ginger syrup along with a bottle of bourbon so they could make the "prescribed" drink on the front of the bottle. Since then, I have had a number of discussions with clients about their favorite drinks. At one office in particular, a group of us have regularly shared inspiration. Recently, I received an email from a comrade that simply said this:
This was all the inspiration i needed. My usual gingery bourbon drink seems a bit more appropriate for autumn. The blueberries and thyme sounded like just the right way to sip bourbon in the summer months. I have been keeping the fridge stocked with michigan blueberries and thyme is bursting out of my herb garden.
In preparation for a small gathering last week, i stopped home for lunch and prepared a few syrups.
I didn't have ginger and decided to omit it from my concoction. I left the thyme in the warm simple syrup all afternoon. When i returned home, the syrups only needed a quick straining and i was ready to shake my cocktails.
The thyme syrup smelled fantastic. At first, i couldn't pick up the flavor in the drink as the bourbon and blueberry were overpowering. Once i added the sprig of thyme as garnish, the added aroma did the trick. If you aren't a fan of bourbon, experiment with vodka or gin. It's hard to imagine anything going wrong with blueberry, thyme syrup and fresh lemon juice.
Bourbon blueberry thyme cooler
makes 2 cocktails
1 1/2 oz thyme syrup
4 oz bourbon
1 oz blueberry syrup (see recipe below)
1 1/2 oz fresh squeezed lemon juice
thyme sprigs for garnish
shake all ingredients together with ice for a minute. Fill glasses with ice and pour over top. Garnish with a sprig of fresh thyme.
Thyme simple syrup
1/2 cup water
1/2 cup sugar
1 cup of fresh, washed thyme
heat water and sugar until the sugar is dissolved. Remove from heat and add thyme. Let the herbs infuse for at least 20 minutes or up to 5 hours. Strain the syrup.
Blueberry syrup
1/4 cup water
2 cups fresh blueberries
put blueberries and water in a medium sauce pan and crush the berries with a potato masher. Bring to a boil and then lower to medium heat and simmer for 15 minutes. Strain the berries and return the syrup to the pan and cook for another 10 minutes to reduce and thicken the syrup. Remove from heat and cool.
Note: i don't add sugar for this syrup since the simple syrup in the cocktail adds enough sweetness.
source: whipped