Caramel Budino
Salted Caramel Budino
Layers of chocolate cookie crumbles, rich caramel custard, salted caramel sauce and whipped cream make up this scrumptious Italian dessert.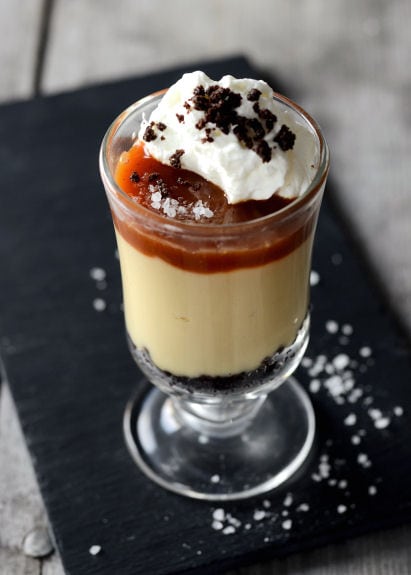 Ingredients:
For the Cookie Crust:
1 cup finely crushed chocolate wafer cookie crumbs (such as Nabisco Chocolate Wafters or World Table Chocolate Cookie Thins), about 20 cookies
1/8 teaspoon sea salt
2 tablespoons butter, melted
For the Budino:
3 cups whole milk, divided
5 large egg yolks
1/4 cup cornstarch
3/4 cup packed dark brown sugar
3/4 cup water
3 tablespoons butter, softened
2 teaspoons vanilla extract or dark rum
1 teaspoon coarse sea salt
For the Salted Caramel Sauce:
1 cup granulated sugar
Extra coarse sea salt
6 tablespoons butter, cut into pieces
1/2 cup heavy cream
1/2 vanilla bean, split lengthwise
1/8-1/4 teaspoon coarse sea salt
Whipping cream
Directions:
For the Cookie Crust:
In a small bowl, mix together the cookie crumbs, butter and salt. Set aside 2 tablespoons of the mixture in a covered bowl and refrigerate. Press 2 tablespoons of the crumbs into the bottoms of each of eight 8-ounce containers (you can use mason jars or whatever other pretty containers you have on hand).
For the Budino:
In a small bowl, whisk together 1/2 cup of the milk and the cornstarch until smooth. Set aside. In a small saucepan over medium heat, heat the remaining milk just until simmering. Set aside.
To make the caramel stir the sugar and water together in a heavy saucepan set over medium heat until all the sugar dissolves. Increase heat to high and cook without stirring until an instant read thermometer reads between 210-215 degrees F.
Have ready a large, heat-proof pitcher. Place the egg yolks in a large heat-proof bowl and whisk. Gradually whisk in the hot milk; add the cornstarch mixture. Slowly whisk in the caramel. Return custard to saucepan. Cook over medium heat, whisking constantly, until it thickens and an instant-read thermometer registers 175 degrees F, about 3-5 minutes.
Remove from heat. Whisk in the butter, vanilla and salt. Pour into the heat-proof pitcher.
Pour 1/2 cup of the budino into each of the prepared jars. Cover with plastic wrap and chill until set, about 3-5 hours.
For the Salted Caramel Sauce:
Place the cream into a small pitcher and scrape in the vanilla seeds and the pod. Set aside.
Place the sugar in medium heavy bottomed saucepan. Cook over medium heat, stirring vigorously with a wooden spoon the whole time.
Once the sugar has completely melted, add the butter pieces, one at a time. Whisk until the butter has completely melted before adding another piece.
Wait for about 3 seconds, then add the vanilla cream slowly. Whisk until nice and smooth. Add the salt and whisk to combine. Strain into a heat proof bowl and let cool slightly.
Spoon 2 tablespoons of the caramel sauce over each chilled budino. Sprinkle with a little coarse sea salt. Top with lightly sweetened whipped cream and the reserved cookie crumbles. Enjoy!
Notes:
You can make the custard up to 1 day in advance, keeping chilled.
hope you guys will love it. :)